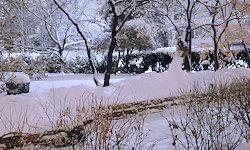 Snow Removal & Ice Prevention
Commercial and residential customers in the Des Moines Metro area can begin a snow removal and ice management/control account with Quality Cut at any time. When winter storms hit bringing snow and ice, our team is prepared to keep our year-round commercial, industrial, and residential clients safe from weather-related hazards.
Commercial & Industrial Snow Removal
Des Moines is no stranger to a snow storm, so when the winter weather strikes in Iowa, you can have peace of mind knowing that Quality Cut will be there to sweep parking lots and clear loading zones so your business operations continue uninterrupted. In addition to snow removal, our ice management and prevention services ensure your employees and customers remain safe on your property.
Residential Snow & Ice Management
Once our team has serviced our commercial and industrial clients, our year-round residential clients can enjoy the same benefits of snow and ice management from Quality Cut. Our team is quick to respond when a blizzard hits the Des Moines Metra Area so your driveways and walkways remain clear and safe to travel on.
Snow Removal & Ice Prevention Account Benefits
By having a snow removal/ice prevention account with us, you are placed on our top priority list. This guarantees that your lot/driveway will be cleared as soon as possible in the event of a snow/ice storm. Contact us today to set up your account and make sure you are covered when the first snow of the season hits.
The winter weather services you receive as an account member include:
Plow truck snow removal for parking lots and driveways

Snow blowing and shoveling walkways

Salt and sand applications per customer request

Ice melt application on walkways

Brine application for lots and driveways