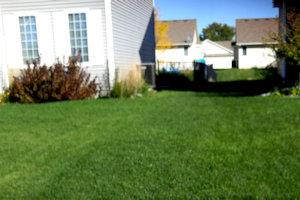 Lawn Treatments
Lush, healthy lawns are supported by healthy soils and our programs are designed with that in mind.  Whether you have a new home with soil that needs amending or an older home with great soil, we can give your lawn the long-term results you are looking to achieve.  Taking care of your lawn using good quality fertilizers and only using pesticides where and when needed, will improve your soil quality and reduce the need for additional pesticides and herbicides.  By utilizing this approach, we can provide excellent results while protecting your children, pets and the environment.
Free Lawn Analysis Estimates
Every lawn is different, which is why we offer a free lawn and soil analysis estimate for both residential and commercial customers. After sampling the soil and examining the lawn, we develop a customized fertilizer program with solutions best suited to treat your lawn. The Quality Cut professionals begin lawn treatment immediately, which involves maintenance or restoration and maintenance, depending on your needs.
Weed Control
Weeds are annoying and are not an attractive addition to your backyard landscape or your front yard curb appeal, and they definitely don't belong in front of your business entrance or in your parking lot. We can stop weeds in their tracks and prevent them from coming back. We are available to spray driveways, parking lots, sidewalks and more to prevent weeds from growing and disturbing the look of your landscape. We can also apply fertilizer to your flowerbeds, planters and other landscape features.
Disease Control & Grub Prevention Treatments
Just like people, plants can get sick too. Stop the spread of plant diseases in your yard with our disease control and grub prevention treatments. Contact us today for a free assessment of your yard or green space. We will determine whether or not your flowers, trees, and other plants are infected and develop a treatment program for your specific needs in order maintain the health and beauty of your lawn.
Perimeter Pest Control
Perimeter pest control prevents insects from entering your home. A liquid insecticide application creates a protective barrier around the outside of your home. One of our pest control specialists will treat all areas 3 feet above the foundation and 4 feet out from the perimeter of the house.  The pest control treatment is pet friendly and will not harm your plants after it has dried. To prepare for the treatment, pets should be kept inside and away from the application until it has completely dried. All windows on the first floor and basement levels should be closed, and anything in your yard, including hoses, tools, toys, and furniture, should be picked up and moved away from the foundation of the house before the application. Treatments are applied three times throughout the year—once in the spring, summer, and fall seasons.