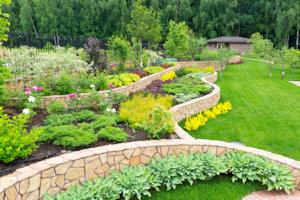 Landscape Design & Maintenance
Quality Cut Lawn and Landscape provides both installation and maintenance services.  Whether you're looking to plant trees and perennials, build a patio or retaining wall, grade your lawn and install sod, we can come up with a plan for you.  Contact us to discuss designing the landscape you desire.
Our Landscaping Process
Design
Our landscape designer helps make your dream backyard into a reality. If you're a business owner, we also design an all-inclusive landscape for your corporate office or business park. We work with you to make sure that all of the elements, such as specific flowers, stones, or even landscape lighting, are perfectly detailed in your landscape design.
Installation
After the design process is complete we will begin to execute your design and make it come to life. The landscape installation process can take a few days to a few weeks, depending on the complexity of the design and the amount of land preparation that needs to be done before installation begins.
Maintenance
Once the installation has been completed, it is important to maintain your landscape. We provide maintenance education for all of our clients so you know how to care for your lawn in between maintenance visits. We set up residential and commercial maintenance schedules to guarantee that your landscape will always look its best.
Landscape Design Options
Wondering how you can make your lawn look more like a garden oasis? Spring is the perfect time to learn about some of our landscape design options to spruce up your property. Call us today and tell us about your landscaping ideas!
Lighting Design and Installation
After the thought and care you've put into making your landscape look perfect, you want to be able to show it off at night, too! From underlit trees to accent lights, we professionally design and install a landscape lighting system that is both inviting and cost effective.
Planting Bed Installations
Want the most beautiful lawn in the neighborhood? Quality Lawn Care and Landscape can take your front yard, backyard or the land around your office building and transform it into a thriving flower bed. After helping you design your flower bed, we will install the planting bed container and plant the flowers that best suit your preferences. Planting bed installations are topped off with perfect manicuring so your lawn will be the envy of everyone in town.
Grading & Sodding
Sometimes the lay of the land on your property isn't ideal. With our grading services, we will sculpt and smooth the landscape until it looks just the way you want it. We can adjust the grade to move water away from foundations, install underground drain tiles for sump pumps and downspouts, as well as french drains to catch and carry water away.
Sod provides an instant lawn and requires a far less demanding watering schedule than growing grass from seed.  After any grading or earth moving, you can have a green lawn back in one day.
Retaining Wall Installation
A rock or stone retaining wall will turn an unpleasant feature on your property into a beautiful one. A retaining wall is both functional and aesthetic and can add a fresh look and style to your property. Integrate a stone retaining wall into your commercial landscaping project or replace your old wooden retaining wall with a rock one.
Natural & Stone Edging
Edging with stone around trees, flower beds, water features and more can be a simple way to add a lot of texture to your landscape. Natural edging is another way to create a beautiful landscape while still being cost effective.
Tree/Shrub Planting
Planting a tree not only adds style and charm to a sparse yard, but it is also good for the environment. Trees and shrubs are great for adding texture to your landscape, building it up to add visual interest and vertical dimension. Trees are great investments for your landscape because they continue to add beauty to your landscape all year long.
Once you have added your trees and shrubs to your landscape, they will need to be maintained. We offer full service maintenance for trees and shrubs including trimming, pruning, disease control and more.
Landscaping Maintenance
Already have a landscape and just need it maintained? We will gladly service any landscape – residential, corporate or industrial. Contact us today to get started.
Annual/Perennial Planting for Homes and Businesses
Annual flowers are what we recommend planting for commercial landscapes. They bloom from spring until fall and attract a lot of attention with their dynamic colors. Annuals must be planted every year because they die in the fall instead of going dormant.
Perennial flowers grow for three years or more, but they have a shorter blooming season. We plant several different species of perennials so that they bloom at different times throughout the season, leaving your home or office with fresh fragrances and bursts of color all season long.
Drainage Tile & Erosion Control
Drainage tile and erosion control prevention services keep your landscapes from turning into swamps. We regulate the amount of water that sits on the surface level by draining it off, almost like reverse irrigation. Contact us today to learn more and see if drainage tiles are right for your residential or commercial landscape.
Deer & Pest Control Applications
Keep the deer and other animals out of your new landscape with repellent applications. We can apply repellents and install baited electric fences that train pests and deer to stay away from your property.